2017 Tzu-Union STFBR Reunion
Its that time again… another wonderful Tzu-Union in Connecticut!
Friday May 4, through Sunday May 7, 2017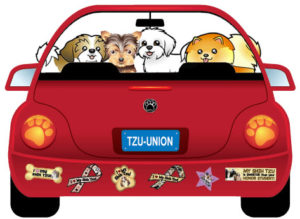 Our busy and creative STFBR director is actively working on topics to cover and deciding on activities to enjoy during this weekend of getting to know your fellow STFBR foster parents and STFBR friends and families! We hope you will join us at this year's tzu-union!
This year's Tzu-Union will be held from Friday May 4 through Sunday May 7, 2017 at the Red Roof Inn in New Britain CT. Thursday arrivals are welcomed and encouraged! Rooms are once again blocked for us and must be booked prior to April 13, 2017 to get the negotiated rate.

Accommodations Information:
Red Roof Inn
65 Columbus Blvd
New Britain CT 06051
1-860-348-1463
Hartford, CT is the closest airport (about 20 minutes away)
Shih Tzus & Furbaby Rescue group rate is $69 per night plus tax
Available from Thursday May 4, 2017 to Sunday May 7 2017
30 doubles (rooms with 2 double beds) are available at the group rate
Reservations must be made prior to April 13, 2017 (then rooms go back to normal rate)
If you will be checking in with more than 2 dogs, please contact Meredith at 912-673-0041
When making reservations call the New Britain hotel directly at 1-860-348-1463, press 1, and identify yourself as a member of the Shih Tzu & Furbaby Rescue group block. IF YOU HAVE ANY TROUBLE MAKING YOUR RESERVATION please email sjharris1120@comcast.net and she will get the problem resolved for you.
So, get ready to pack up your babies and get ready to head to New Britain CT for this fun and informative weekend. Our rescue has the best volunteers and friends!
---
Weekend Agenda
Coming Soon!