2017 Tzu-Union STFBR Reunion
We are coming back to sunny Florida in November 2017 for our fun Shih Tzus and Furbabies Reunion!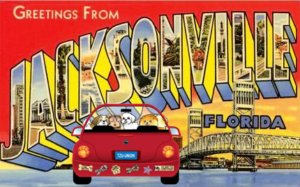 We will continue to meet in May, in Connecticut, but this November we are coming back to Jacksonville, Florida for an annual event. From November 3 – 5, 2017, we are planning three days of educational sessions, fundraising auctions and raffles, bingo, a pupster beauty pageant, an award dinner…. and furbabies. It's a retreat weekend with Furbabies!
We try to keep the registration fee low, so that as many of you as possible can attend. The cost this year is $125 per person. For this fee, you will receive lunch and dinner on Friday and Saturday, as well as lunch on Sunday (and the food is delicious – we use local restaurants and an excellent catering service on Saturday night). The hotel has a very nice free breakfast – local participants have been known to join out-of-towners for fruit, waffles and coffee before the seminars. You will also receive your choice of educational materials, and lots of 'goodies.'
If you are flying, you'll want to fly into Jacksonville (JAX.) We can pick you up; you don't have to rent a car. If you have an RV, there are wonderful campgrounds in the area. If you are driving, the hotel is right near I-95. Also, we'll be just 9 miles from the beach, if you want to extend your stay, or bring your family.
There will also be a limited number of "scholarships" for those who want to attend, but will have difficulty with the cost. This is on a first come, first served basis – speak to me directly, we are discreet.
---
Accommodations Information:
We have special room rates, with no extra cost for additional people, and NO pet fee!
The hotels 'allows' 2 dogs in each room, so check in with 2. (If you want to bring more, it's fine, just call or email me first.)
Rates for double and king rooms are $68.00 per night.
To reserve your room, call 904-296-0703 and provide our confirmation code: 0969GRXHGI
Reservations must be made prior to October 12, 2017.
If you have any questions regarding your reservation, email sjharris1120@comcast.net
La Quinta Inn & Suites
Jacksonville Butler Blvd
4686 Lenoir Ave South
Jacksonville, FL 32216
Call: 1-904-296-0703
Back to Top
---
November 2017 Tzu-Union Itinerary
Thursday, November 2, 1:00 pm
(or whenever you arrive, if you wish to participate on Thursday)
This is a work day for administrative volunteers, board members, and anyone who wants to be involved in policy and protocol. Our organization has an "open door" policy, so if you want to join us, you are welcome. We will work on contract and protocol issues, fundraising concerns, application processing, etc. We will also be setting up the room for the weekend's activities.
Most people arrive late Thursday afternoon or evening to participate in a full day of educational seminars on Friday. We'll go out as a group to a nearby restaurant for dinner Thursday night. We have 6:30 reservations at Blackfinn Ameripub. They have a nice dining room, along with the bar shown on the website. www.blackfinnameripub.com/jacksonville.
Friday, November 3, 9:00 am
Lunch at 12:30 / Dinner at 5:30
Educational seminars all day, including fostering 101, house-training, preparing your foster for adoption and transport, anal glands, behavior issues, NILIF, T Touch massage therapy, and anything else you would like to discuss. Carol Mason will introduce us to Molly and Joey, and tell us about their lives as therapy Tzus.
After dinner, we'll show off our babies with a Furbaby Fashion Show, followed by Bingo, STFBR style, with our own JoAnn Orlando. We'll need a volunteer to take charge of the Margaritaville machine. 🙂
Saturday, November 4, 2017. 9:00 am
Lunch at 12:30 / Dinner at 6:00
We'll start Saturday morning with Kelly Zen her very talented Tzus, Piper and Jett. Not only are Kelly's pup AKC rally champions, they also DANCE!
At 10:00 am, Constance The Pet Messenger, a communicator who has helped with some of our babies, will do a session about communicating with our dogs, understanding their body language and signals. We'll finish the morning with discussion about senior dog care and managing their specific health concerns.
After lunch, Octavio Martinez, our rescue angel and groomer from Hot Paws in Fernandina Beach, FL, will demonstrate grooming basics to keep our babies clean and comfortable between trips to the spa. Other sessions will include canine CPR, diet and allergies, and other health issues. We'll also discuss puppy mill rescue and working with 'mill babies.'
Saturday night is the highlight of the weekend – our Award Dinner and live Fundraising Auction! Expect delicious food, raffle and Chinese auction drawings, followed by our live auction. We've been collecting items, and invite you to contribute things, too. Every penny raised goes to the pups. Our own Brooklyn has volunteered to play Auctioneer this year!
Sunday, November 5, 9:30 am – 1:00 pm
Lunch at 12:30
Norma Brizzi is a rescue mom and friend, and she joins us every year with her three rescue pups,who are agility champions. Norma will set up an easy agility course for her pups, and ours. Agility will be followed by a clicker training session, also taught by Norma. People generally leave Sunday afternoon for travel home, but are welcome to stay longer.
Well behaved, or well dressed (belly bands and prissy pants) small dogs are welcome, and may attend everything. The food is great, and it's wonderful to meet the people we email, Facebook, and work with to save the dogs who need us.