2017 Tzu-Union STFBR Reunion
We are coming back to sunny Florida in November 2017 for our fun Shih Tzus and Furbabies Reunion!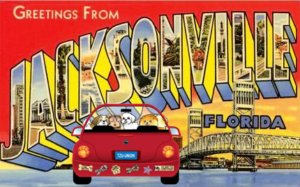 We will continue to meet in May, in Connecticut, but this November we are coming back to Jacksonville, Florida for an annual event. From November 3 – 5, 2017, we are planning three days of educational sessions, fundraising auctions and raffles, bingo, a pupster beauty pageant, an award dinner…. and furbabies. It's a retreat weekend with Furbabies!
We try to keep the registration fee low, so that as many of you as possible can attend. The cost this year is $125 per person. For this fee, you will receive lunch and dinner on Friday and Saturday, as well as lunch on Sunday (and the food is delicious – we use local restaurants and an excellent catering service on Saturday night). The hotel has a very nice free breakfast – local participants have been known to join out-of-towners for fruit, waffles and coffee before the seminars. You will also receive your choice of educational materials, and lots of 'goodies.'
If you are flying, you'll want to fly into Jacksonville (JAX.) We can pick you up; you don't have to rent a car. If you have an RV, there are wonderful campgrounds in the area. If you are driving, the hotel is right near I-95. Also, we'll be just 9 miles from the beach, if you want to extend your stay, or bring your family.
There will also be a limited number of "scholarships" for those who want to attend, but will have difficulty with the cost. This is on a first come, first served basis – speak to me directly, we are discreet.

---
Accommodations Information:
We have special room rates, with no extra cost for additional people, and NO pet fee!
The hotels 'allows' 2 dogs in each room, so check in with 2. (If you want to bring more, it's fine, just call or email me first.)
Rates for double and king rooms are $68.00 per night.
To reserve your room, call 904-296-0703 and provide our confirmation code: 0969GRXHGI
Reservations must be made prior to October 12, 2017.
If you have any questions regarding your reservation, email sjharris1120@comcast.net
La Quinta Inn & Suites
Jacksonville Butler Blvd
4686 Lenoir Ave South
Jacksonville, FL 32216
Call: 1-904-296-0703
---
Weekend Agenda
Coming Soon!