Foster Application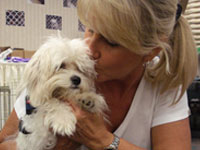 We do not operate a shelter or have any formal facility. All our rescue pups are in private approved foster homes throughout the United States. We don't ask you to take them to a pet store on Saturdays until they're adopted. We only ask that you be their transition home, between where they came from & where they'll be adopted to. We ask that you treat them as a family member while they're in your care. Spoil them rotten and give them love. That's not hard to do!
We have an URGENT need for foster homes in the following states:
Alabama, Arkansas, Florida, Georgia, Indiana, Kentucky, Missouri, New England, New York, New Jersey, North Carolina, Ohio, Pennsylvania, South Carolina, Texas
For more information on what fostering a rescue dog involves, you may also contact us. We appreciate all inquiries!
---